Remote Education Provision Information for Families
This information is intended to provide clarity and transparency about what to expect from remote education if:
individual pupils are self-isolating
local restrictions require all pupils or some pupils to remain at home
We have communicated this information with families in a variety ways and when pupils are isolating for different reasons, we will write to families to ensure they know the expectations and have the support they need to ensure their child can access the remote learning provision.
Each week, every class teacher prepares a Remote Learning document that is based on the learning activities planned for the week ahead. This document is sent to any pupil who needs to isolate. In periods of national lockdown or a class closure this is amended to reflect the needs of the pupils and families and is sent out weekly. It is also available on our website. https://www.bellevillewix.org.uk/home-learning/
We have identified the following scenarios – however we know that some situations may not have been identified. We aim to provide the best provision no matter what the situation.
Spring 2020 National Lockdown Provision at BWA
This is the provision we put in place during this period of time.
Spring Term 2020 - Current Daily Schedule - For all English Stream classes and Bilingual classes when it is an English Focus week
Every class has an individualised timetable that has been shared with the families.
Where there are two classes in a year group, one teacher may teacher the maths lesson and another the English lesson.
Pupils should get dressed in their school uniform daily to attend the live lessons.
'Wake Up, Shake Up' - Every pupil is invited to take part in 'Wake Up, Shake Up' with Mr Bartlett at 8:30am.
Registration - We will start every day with a live registration in the morning – see class timetable for the time.
Lesson 1 – Our first lesson of the day will be maths. The teacher will teach the maths concept - this may last for up to 30 minutes and then most pupils will be asked to leave the meeting to complete their independent work.
Lesson 2 - Pupils will return to the Zoom meeting to recap on the key concepts of the previous lesson before being the English lesson starts. The English lesson input may last up to 30 minutes. The children will then be expected to work independently on the task(s) set.
Pupils will be expected to complete the curriculum work they have been given in the afternoon, including having lunch and taking some exercise. The curriculum lessons will be will sent through the class email and on seesaw.
Lesson 3 - All pupils are expected to return for an afternoon registration. The teacher will lead a whole class reading session. Pupils should have their curriculum work nearby so they can share it if invited to do so.
Can't attend a live lesson?
If a pupil is unable to join the Zoom meeting, all the lessons are sent to parents in the weekly home learning document.
Year 1 – 6 Home Learning Live Lesson Timetable – at a glance
Nursery virtual learning timetable
Reception virtual learning timetable
Individual Class Year X Timetable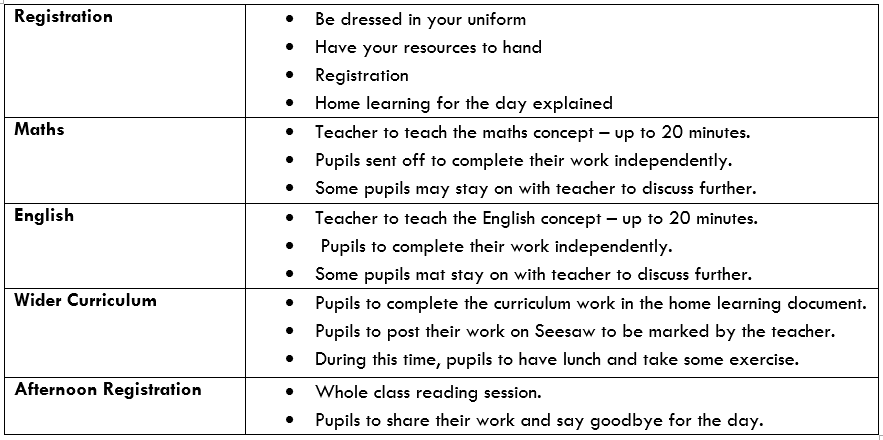 Interventions
Min 2 per week per class ( Reading/Phonics & Maths/Arithmetic)
Some pupils with an SEND may receive an invite to a ZOOM with their teacher or TA for additional support
Seesaw
Pupils are expected to post their work on Seesaw daily, this includes their maths work, English work and curriculum work. This allows the teacher to assess pupil's work and offer feedback.
Zoom Protocols
These are sent to parents beforehand. By joining the session, you agree to the protocols.
School Context Decisions
1. The remote curriculum: what is taught to pupils at home
A pupil's first day or two of being educated remotely might look different from our standard approach, while we take all necessary actions to prepare for a longer period of remote teaching.
What should my child expect from immediate remote education in the first day or two of pupils being sent home?
Pupils who are self-isolating at home will have access to home learning resources. Our aim is to have work set within 24 hrs of any pupil going into self – isolation. Teachers have the week ahead home learning planned ready to be sent to the pupil.
Pupils who are self-isolating at home will have access to Seesaw and other home learning resources. Padlet will be used for French provision only for pupils in bilingual stream
Parents/Carers are asked to ensure they sign up to MNP and have checked they have log in details for Seesaw.
Padlet will be set up for pupils in the bilingual stream to access the work provided by EdW.
The weekly remote learning for every class is linked to their curriculum. This is sent out when a pupil needs to isolate, a class is closed or there is a whole school closure.
Maths: Pupils will have immediate access to maths lessons via the Q1E website at www.q1e.org.uk. Pupils have access to MNP online. If pupils have been at school immediately before the closure, they will be sent home with their Maths - No Problem! Workbooks. If not, we will endeavour for them to collect these safely.
English: explicit instructions will be sent to every pupil and circumstances will be always considered carefully.
Reading: Pupils should read every day. They should have the following books available to them. ​​​​​
Guided Reading book
Independent reading book
Your child should read every day with an adult and of course you know the impact of reading to your child is significant so please do try to find some time for this in your busy schedule.
Writing
Our writing lessons are predominantly focused on the text the pupils are reading in class. Plans will be adapted dependent on the closure.
If it is class closure or individual self-isolating the provision will be dependent on where the pupils are in the teaching cycle.
We don't always have a copy of the class text for every child therefore we need find solutions to this problem, dependent on the class and time your child may have to self-isolate. We may send your child home with a copy of the book, share a link to the book online or send the relevant pages to read. Teachers may also record the book to use in long periods of closure.
Grammar
Weekly activities set on the home learning document.
Spelling
Pupils will be sent weekly spellings to learn.
Wider curriculum: Curriculum tasks will be based as much as possible on what the pupil would be learning at school. during national lockdowns or local closures pupils will have immediate access to lessons and activities covering the wider curriculum, via the Q1E website at www.q1e.org.uk Links to Oak Academy may be given if it reflects the curriculum at the time.
'Bug Club' is an online reading scheme we use at BWA for all pupils from EYFS-KS2. It allows our pupils to access a range of age appropriate books, set by their class teacher, via an iPad or computer etc. During this time of school closure we would ask the your children spend a minimum of 10-15 minutes a day in EY and KS1 and 20-30 minutes a day in KS2 reading from their allocated texts on the platform.
Below is the link to access the platform:
https://www.activelearnprimary.co.uk/home#pupils
Should we deem it helpful, pupils will be given pupil packs to support their learning at home – e.g. reading club book, maths equipment, books, whiteboard and pen etc.
Pupils who may have additional support in school may be given packs to support the wider curriculum or curriculum in the EYFS.
Following the first few days of remote education, will my child be taught broadly the same curriculum as they would if they were in school?
We teach the same curriculum remotely as we do in school wherever possible and appropriate. However, we may need to make some adaptations in some subjects. For example:
Our home learning will avoid the need to print off worksheets or other materials. As a result, some activities may be taught differently to how they would be in the classroom.
Some practical activities (for example, experiments in science lessons) may not be able to be taught in the same way. We will adapt our lessons accordingly, and where possible, we will provide ideas for practical activities to try at home.
PE - these may be live lessons, videos or written instructions of what to do at home. Links to Oak Academy may be given if a pupil is isolating.
French and Music will be taught through video when the whole school is partially closed to all pupils or a class is at home. Links to Oak Academy may be given if a pupil is isolating.
2. Remote teaching and study time each day
How long can I expect work set by the school to take my child each day?
We will adhere to the government's minimum expectation at the time.
Key stage 1: 3 hours a day, on average, across the school cohort, with less for younger children
Key stage 2: 4 hours a day
We expect that remote education (including remote teaching and independent work) will take pupils broadly the following number of hours each day.
Please see timetables at the beginning of this document for the different scenarios.
In summery the offer is:
Maths: one hour a day
English: one hour a day
Grammar (vary according to the age and needs of the pupil)
Spelling (10-15 mins a day)
Wider curriculum: one / 2 hours a day
Reading: half an hour a day
3. Accessing remote education
How will my child access the online remote education?
Pupils will access our online remote education via the following tools and platforms:
Pupils will be sent the Home Learning document if they are isolating whilst the rest of the class are at school
If the class are isolating we may use the school website: https://www.bellevillewix.org.uk/home-learning/
Maths – No Problem! online resources (a link is provided to parents/carers at the beginning of the year).
SeeSaw
Zoom (for class meetings) a link will sent through the class email if the class is isolating
Bug Club – sent to parents through email at the start of the year
Our trust website: www.q1e.co.uk may be used – parents will be informed in an email if this is the case.
If my child does not have digital or online access at home, how will they be supported to access remote education?
We recognise that some pupils may not have suitable online access at home. We are committed to supporting all pupils to be able to continue their education remotely.
If your child does not have access to a suitable device (e.g. a laptop or tablet) to access home learning, or is sharing a device with more than one other person, or you do not have suitable internet access at home, please contact the school at to discuss this, in confidence. We will send out regular surveys to get this information but appreciate circumstances can change. The school will do what it can to help, which may include the following schemes:
Government laptop scheme: The government is providing laptops for disadvantaged children who do not have access to a device, and whose face-to-face education is disrupted because of closures, or because they have been advised to shield.
Government internet connection scheme: Disadvantaged families may be able to benefit from free increases to their mobile data if they're a customer of EE, Three, Sky Mobile, SMARTY, Tesco Mobile or Virgin Mobile.
School equipment: We may be able to lend you a laptop, tablet, or dongle (to enable internet connection). You will be asked to complete an agreement form.
Accessing printed materials: Our home learning provision will avoid the need to print materials off at home as much as possible. If you do not have online access, please contact us to discuss this and where necessary, we will provide printed materials and support your child to submit work in other ways.
How will my child be taught remotely?
The different scenarios are set out the beginning of this document. We use a combination of the following approaches to teach pupils remotely:
Live inputs if the whole class or school is partially and the teacher is well
Recorded teaching (e.g. videos made by teachers; Oak National Academy lessons)
Downloadable worksheets with details of activities to complete at home
Interactive online activities (for example via the Maths – No Problem! platform)
Textbooks and reading books that pupils have at home
Submission of work and teacher feedback via SeeSaw
Some project work and/or internet research activities
Occasional use of other commercially available websites supporting the teaching of specific subjects or areas, including video clips or sequences.
4. Engagement and feedback
What are your expectations for my child's engagement and the support that we as parents and carers should provide at home?
Pupils are expected to engage with the remote education which is provided by the school, in line with government expectations every day. Pupils will require access to the internet and use of a laptop or tablet for some of that time.
Your child must post their work on Seesaw daily, this includes their maths work, English work and curriculum work. This will allow the teacher to assess your child's work and offer feedback. It is also a fantastic opportunity for your child to celebrate their work.
Teachers will contact any pupil not posting work. Expectations on the quality of the work and when it should be posted will be reviewed and shared with parents.
We recognise that supporting children to complete their remote education will be a challenge for parents and carers who have to undertake their own work and other commitments. We ask you to support this as much as you are able, for example by setting routines to support your child's education. If your child cannot complete the activities every day, you will be able to discuss this with their class teacher.
How will you check whether my child is engaging with their work and how will I be informed if there are concerns?
We will use the following methods to check pupils' engagement with remote education:
SeeSaw: we will check each pupil's engagement daily
Whole class zoom meetings: we will monitor attendance and participation daily
Min two calls a week to vulnerable pupils
Weekly phone calls to all other pupils
Where your child's engagement is a concern, we will contact you directly and without delay. This may involve arranging a phone or video conversation to discuss any issues so we can support you.
How will you assess my child's work and progress?
Feedback can take many forms and may not always mean extensive individual written comments. Many pupils have enjoyed the voice notes on Seesaw. Parents are asked to share the feedback given with their children. It is important that the feedback improves outcomes so we will continually refine how we feedback to ensure it is effective.
We will use the following methods to assess and feedback on pupils' work:
SeeSaw – written, acknowledged, sent back or voice note
Whole class feedback via class teacher messages, videos or meetings
Individual phone calls
Whole-class feedback or quizzes marked automatically via digital platforms
5. Additional support for pupils with particular needs
How will you work with me to help my child who needs additional support from adults at home to access remote education?
We recognise that some pupils, for example younger children and those with special educational needs and disabilities (SEND), may not be able to access remote education without support from adults at home. We acknowledge the difficulties this may place on families, and we will work with parents and carers to support those pupils in the following ways:
How we work with families to deliver remote education for pupils with SEND
Each pupil's teacher will know how their needs can be met most effectively, to ensure they continue to make progress, even when they are not able to be in school. We will work together with families, putting in place reasonable adjustments as necessary, so that pupils with SEND can successfully access remote education alongside their peers.
Where a pupil has provision specified within their EHCP, decisions on how this can be delivered will be informed by relevant considerations. We will review the services that the pupil can access remotely, for example remote sessions with therapists. The approach cannot be 'one size fits all' so these decisions will be considered on a case by case basis. As Oak Academy SEND online provision increases, we will train staff on these, identify what would support individual pupils and share with parents/carers. We will always support individual families to deliver these sessions. The teacher, TA or SENDCO will be in contact with every pupil with a SEND to ensure they are making progress during any time away from school, if they are well.
How we work with families to deliver remote education in reception, year 1 and year 2
We recognise that younger pupils may not be able to access remote education without adult support. We aim nevertheless to deliver a broad and ambitious curriculum. The schedule is set out at the beginning of the document. We will seek parent feedback to refine the offer.
We will also offer parent workshops – small or whole cohort to support parents deliver the home learning.
6. Remote education for individual self-isolating pupils
Where individual pupils need to self-isolate, but the majority of their peer group remains in school, how remote education is provided will likely differ from the approach for whole groups. This is due to the challenges of teaching pupils both at home and in school at the same time.
If my child is not in school because they are self-isolating, how will their remote education differ from the approaches described above?
When individual pupils are self-isolating but the majority of their class/year group are still in school, remote education will need to be different. However we remain committed to ensure any pupils are taught a planned and well-sequenced curriculum with meaningful and ambitious work each day in a number of different subjects. For these pupils, as a minimum:
Work will be provided weekly, by email
A weekly phone call will be arranged with the class teacher (or another teacher where applicable), unless we think the pupil would benefit from additional contact.
Work should be uploaded daily and marked. Pupils will receive feedback on the work uploaded to Seesaw.
This document follows the government template provided at www.gov.uk/government/publications/providing-remote-education-information-to-parents-template.
The following information may be helpful to families to learn more about online safety.
The following websites offer useful support: